Unleash Your Potential: The Power of a 3-Day Golf School
Are you ready to take your golf game to the next level?
Want to get more out of every swing, putt and drive?
If so, making the decision to attend a 3-Day Golf School is just what you may need!
It's an intense learning experience that focuses on improving your technique, pinpointing common weaknesses in your game and identifying what makes each shot successful.
With expert instruction from Brad Myers, PGA, you will receive golf instruction tailored specifically to your golfing needs.
Intensive and Accelerated Learning:
In today's world, it's no big secret that everyone has less and less time. We want what we want and we want it now.
In a 3 day golf school, you will be measured with technology that many PGA and LPGA Tour players are using to find out exactly what you are doing throughout your golf swing.
You will then be given solutions to make corrections that will have references to them and allow you to learn faster than the "Average Joe/Jane" standing on the driving range.
Personalized Attention and Feedback:
The Ball Flight Academy's 3 day golf schools maintain small class sizes to ensure that we know and understand your goals, your strengths and weaknesses, and your mindset to create the best golf improvement plan for you.
You can even book an individual golf school with us.
Comprehensive Curriculum:
The Ball Flight Academy offers a comprehensive curriculum that covers every aspect of the game.
In a 3 day golf school for adults, we will cover the mechanics of a full swing, various short game techniques this depending on your skill level, how to improve your putting stroke, as well as course management strategies.
No matter what you are currently struggling with in your golf game you will receive great golf instruction from the friendly and helpful coaches that twill have you shooting lower scores sooner than later.
Use Of Advanced Technology:
Within our golf schools, we incorporate cutting-edge technology into all of our golf instructional programs.
Trackman4, Sportsbox.ai marker less 3D, and Titleist Performance Institute (TPI) body screenings provide us the ability to find the baseline when you arrive and measure the improvements on swing mechanics, ball flight, clubhead speed, and how your body moves.
By leveraging these technologies, we can offer data-driven insights, enabling students to understand their strengths and areas for improvement better.
Increased Confidence and Motivation:
Once we get a baseline of your movements when you arrive, the technologies that we use will allow you to see the progress and boost your confidence in your golf game.
This will give you more motivation to practice and keep improving no matter if you are attending one of our beginner golf schools in Florida or one of our advanced player golf schools in Florida
Overall, a 3-day golf school offers a unique and accelerated learning experience that combines personalized attention, advanced technology, comprehensive instruction, and an immersive environment.
It provides an ideal platform for golfers of all skill levels to improve their game, gain confidence, and elevate their overall golfing experience.
Expert Golf Instruction from Brad Myers, PGA
At the Ball Flight Academy, our golf school is very fortunate to have instructors like Brad Myers, PGA.
Brad is a golf coach that brings a wealth of knowledge and 25+ years of teaching experience to the table and in 2022 was named one of GRAA Top 100 Growth Of The Game Golf Instructors in the US.
As a member of the quarter century club of the PGA of America,, Brad possesses a comprehensive knowledge of golf movements, strategies, and how the game is played.
Brad's passion for teaching comes through in every golf lesson, as he is dedicated to helping students achieve their full potential.
Brad's patient and encouraging demeanor fosters a positive learning environment, making him approachable to golfers of all skill levels.
Brad is not about fitting every golfer into one golf swing model.
With the information he gains from trackman and sportsbox.ai, he will tailor the instruction to improve impact positions and your ball striking, short game or putting stroke.
Brad's philosophy is first concerned with the quality of contact, then where the golf ball starts flying, and ends with where the golf ball turns in the air.
If you're not making quality contact or hitting the ball solid, the other two don't matter much.
See What Other Golfers Are Saying…
I recently had the privilege of receiving golf instruction from Brad after years of inconsistent golf play. His ability to break down complex concepts into simple, digestible instructions is a testament to his skills as a golf instructor. Brad creates a relaxed and positive learning environment, making it easy to ask questions and seek clarification. Whether you're a beginner or an experienced golfer, Brad has the ability to identify and correct the subtle flaws in your technique, leading to improvements in your overall game. He is professional, courteous and a true asset to anyone seeking to enhance their golfing skills. Thanks to Brad, my golf game is much more enjoyable!
Kevin Tokarczyk
2023-08-01
I am a new golfer and just started playing 2 years ago with my roommates in college. Now that I have graduated, I've wanted to play the game more seriously and started taking lessons 3 months ago. I have had multiple instructors with little improvement. Brad was the first instructor that was able to break down my swing in the simplest way and gave me a better understanding of how my body is supposed to move through my swing. Brad is articulate and concise which is great for me as a beginner golfer because he is able to efficiently communicate without confusion or over-explanation. I have seen more improvement from my one session with him than I have with any other instructor. 1 week on from my lesson with him I am making much better contact with the ball and my swing is smoother and straighter. Thank you Brad, I look forward to taking another lesson from you!
Brad is one of the best golf instructors I've had. He's very patient, and worked with my swing. It was horrible in the beginning. He broke it down and explained, in small steps, how to improve it. I was never overwhelmed. He gave me drills to do, and I followed his instructions. After 8 lessons, my game has improved immensely. Brad met me at a club fitter, which was helpful. I plan to take more lessons as soon as my rotator cuff is healed! (Not from golf)
WOW, what a great training experience. Brad is patient, knowledgeable and a great instructor. He is able to feed information in small increments and it makes it so much easier to learn. I am looking forward to more lessons on the future.
Benjamin Grais
2023-06-20
I am new to the area so I was looking for a golf coach who could help me improve my game. I have played golf for 35 years but as I have aged, I needed to adjust my swing with golf lessons and expert instruction. I found Brad's website with a plethora of options including private and group lessons. In the last 3 weeks with Brad's coaching, I have enrolled in both private and group instruction with substantial Improvement. Besides being an amazing coach, Brad has exceptional interpersonal skills. He is authentic and truly wants to learn about you and your golf game. He has the latest technology and is able to explain the results which translates to a better golf game. Thank you Brad! I appreciate all of your help, patience, and guidance.
Bob Hansbrough
2023-05-31
I started taking lessons in July 2022 and my goal was to regain my swing that I had lost due to lack of play for 10 years. I was shooting 100-105. My goal was to regain my tempo and break 90 by 1/1/23. That goal was shattered in just 90 days. I'm now scoring in the mid 80's consistently and I've shot 79 once. Brad has been there every step of the way. He breaks the swing down in bite size pieces. I improve after each lesson and he's there for his students daily. He even helped me get fit with a custom driver just a few weeks ago at Club Champion. He's the real deal if you want to improve your game. Thanks Brad
Brad is a great Golf Instructor. He is good at asking questions to help you learn rather than just giving you the answer right away. Helped me fix my swing and find consistency. Responds to texts when I have questions during practice to keep me moving in the right direction. Highly recommend.
After so much frustration hacking away at balls on the range – it was a relief to finally have fun. I improved more in my one hour with Brad than I have in the past two months getting back into the game. His style is personable and relaxed, and he is a very effective communicator explaining concepts and correct feels. I finally feel confident standing over a golf ball again, and look forward to my next lesson with Brad. Roll Tide!
Really personable, easy to get a long with, and great applicable knowledge. I was a little anxious because I have a non traditional swing, but I was at ease with Brad immediately. He didn't try and change my swing, rather he showed me where I could improve using my normal swing. I highly recommend Brad to anyone looking to improve their game.
Brad is an extremely knowledgeable and patient instructor. He explains things in an easy to follow manner. I highly recommend.
Cutting-Edge Golf Technology and Training Techniques
Trackman4
Attending a 3-day golf school in Florida is an incredible opportunity to refine and improve your golf skills, and Trackman technology just takes that experience to the next level.
With this cutting-edge technology that the majority of PGA and LPGA Tour players use, golfers can receive feedback about their golf swing mechanics, ball flight, and body movements.
Trackman measures or calculates 40+ data parameters.
All of this technology may seem overwhelming to you or you may not think that your game is good enough to use this technology. However, there is no reason to worry.
Brad will look through it, analyze it, and come up with the best golf swing solution for you.
As your golf coach, I may show you a number or two and allow you to watch the numbers change turning this piece of technology into a "feel machine" for you as a golfer.
For instance, if we are looking at club face, we will show you the number and then ask you to make the number bigger or smaller.
The feedback that the machine gives us equates to feel in your golf swing.
SportsBox.ai
A golf lesson using Sportsbox.ai is not you Father's golf lesson.
This app uses marker less 3D technology to measure your body. For example, it will measure your shoulder to your elbow, your elbow to your wrist, etc.
The app will then build a 3D avatar of you that we can watch from any angle.
It also measures how your body is moving and gives you the data in an easy to understand form.
If the number is green… all is good, if the number is yellow… keep an eye on it, and if the number is red… it needs improving. It totally gamifies the learning process.
This app allows us to monitor change in each learning session which will speed up the learning process.
Titleist Performance Institute (TPI)
At the Ball Flight Academy, we believe that a golfer's body is their most critical piece of equipment, so we use a TPI body screen to help golfers maximize their performance.
The TPI body screen involves assessing your mobility, flexibility, balance, stability, and strength to determine any limitations that may be holding back your progress.
By identifying the areas that need improvement, we can tailor our instruction to your specific needs, and help you make real progress in your golf game.
At the Ball Flight Academy, we know that there is no single swing style or technique that works for everyone, and that is why we place such emphasis on personalized instruction.
In addition, you will leave with multiple personalized golf mobility workouts that you can access on any mobile device.
You will have the option of 15, 30 ,45, 60 and/or 90 minute mobility workouts to fit you schedule and help you reach your golfing goals.
How Trackman, SportsBox.ai and TPI Work Together
By combining the information gained from Trackman, Sportsbox.ai, and TPI, Brad and the other instructors can provide students with a comprehensive understanding of their swing mechanics, ball flight data, and physical capabilities.
This integrated approach allows for personalized instruction that is data-driven and tailored to your specific needs.
Students can then make informed adjustments and practice with a clear understanding of how those changes impact their performance.
The Learning Environment At Our Sarasota Golf School
The Ball Flight Academy's golf schools are held at Heritage Harbor Golf Club located in the Sarasota-Bradenton Florida area.
Heritage Harbor Golf Club was originally designed by Arthur Hills and went through a renovation in 2022.
During the renovation, the golf course was completely given all new turf grass, greens, bunkers and 4 completely new golf holes.
In addition, it contains a full driving range that has typical Florida wildlife all around it including osprey, herons, rosy spoonbills, hawks and alligators.
This gives us a very serene learning environment which will allow you to focus, relax and be ready to accept new information about your game.
If you are in the Central or South Florida area… Simply Google the term(s) 3 Day Golf School Near Me or 3 Day Golf Schools Near Me to find the best 3 day golf school for you.
What To Do In Sarasota When You're Not Working On Your Golf Game
Siesta Key Beach
When it comes to beach destinations in Florida, Siesta Key Beach is undoubtedly one of the most iconic and award-winning spots.
This stunning beach is located just a quick drive from Sarasota and boasts turquoise waters and soft, sugar-white sand that has been ranked as the best beach in the United States multiple times.
Siesta Key Beach has also received recognition for its cleanliness, safety, and top-notch amenities, including a picnic areas and volleyball courts.
The beach's accolades and countless positive reviews attest to its undeniable beauty and allure, making it a must-visit destination for any beach-lover seeking Florida golf school vacations.
Ringling Museum
Do you like art and cultural experiences? Look no further than the Ringling Museum during you visit.
You can explore the exquisite art collections of John Ringling, the circus magnate, and his wife, Mable, as well as the impressive architecture of the museum itself.
But that's not all – the Ringling Museum also boasts stunning gardens and hosts world-class performances and events throughout the year.
St Armand's Circle
St Armand's Circle boasts a vibrant array of shops and restaurants that draw locals and tourists from around the world.
This European-inspired outdoor marketplace is surrounded by an array of palm trees, vibrant flowers, and sparkling fountains.
Many notable restaurants have made their home here, including Columbia Restaurant and Shore Diner.
Visitors to St Armand's Circle can partake in a range of activities, including shopping, dining, and exploring the nearby Mote Marine Laboratory & Aquarium.
Mote Marine Laboratory
Mote Marine is a haven for lovers of the ocean and its inhabitants. Known for its world-class research facilities and state-of-the-art aquariums,
Mote Marine is the perfect destination for those seeking to explore the fascinating world under the sea.
From tropical fish to sea turtles and sharks, the marine life on display at Mote Marine will leave you awe-inspired.
What makes this institution truly special, though, is its dedication to marine science and conservation.
If you're looking for an experience that is both educational and enjoyable, Mote Marine is definitely worth a visit.
Other Local Golf Courses
If you're looking for some of the best golf courses in Sarasota-Bradenton Florida area, the options are plentiful.
The Ritz Carlton, Waterlefe, Esplanade at Azario, and Lakewood National which currently hosts a Korn Ferry event are just a few of the courses that will challenge your skills.
Each one offers its own unique experience, ranging from stunning natural scenery to challenging holes for players of all skill levels.
Conclusion
Attending the best 3-day golf school for you is a fun way to accelerate your learning and get immediate feedback from a professional coach like Brad Myers, PGA.
Our Sarasota golf school offers expert instruction from Brad Myers, PGA and he utilizes cutting-edge technologies like Trackman and Sportsbox.ai combined with the Titleist Performance Institute (TPI) body screen to set your baselines and monitor your improvement during the lessons.
We offer you help with all areas of the game and the personalized attention that you need to increase your confidence, motivation, and to shoot lower scores.
When not working on your golf game, the Sarasota-Bradenton Florida area around Heritage Harbour Golf Club can provide you with unforgettable memories during your golf school vacation.
With local attractions such as Siesta Key Beach, Ringling Museum, St Armand's Circle, Mote Marine Laboratory, and other local golf courses, there is plenty to experience in the area while improving your golf game!
So what are you waiting for?
Now is the perfect time to unleash your potential and take advantage of our 3-day Florida golf schools for seniors or golf school vacations for couples.
Come join us and see how far your game can go!
Learn More About The Ball Flight Academy's 3-Day Golf Schools
Send us any questions that you may have about our golf schools
Keep Improving Your Golf Swing Here...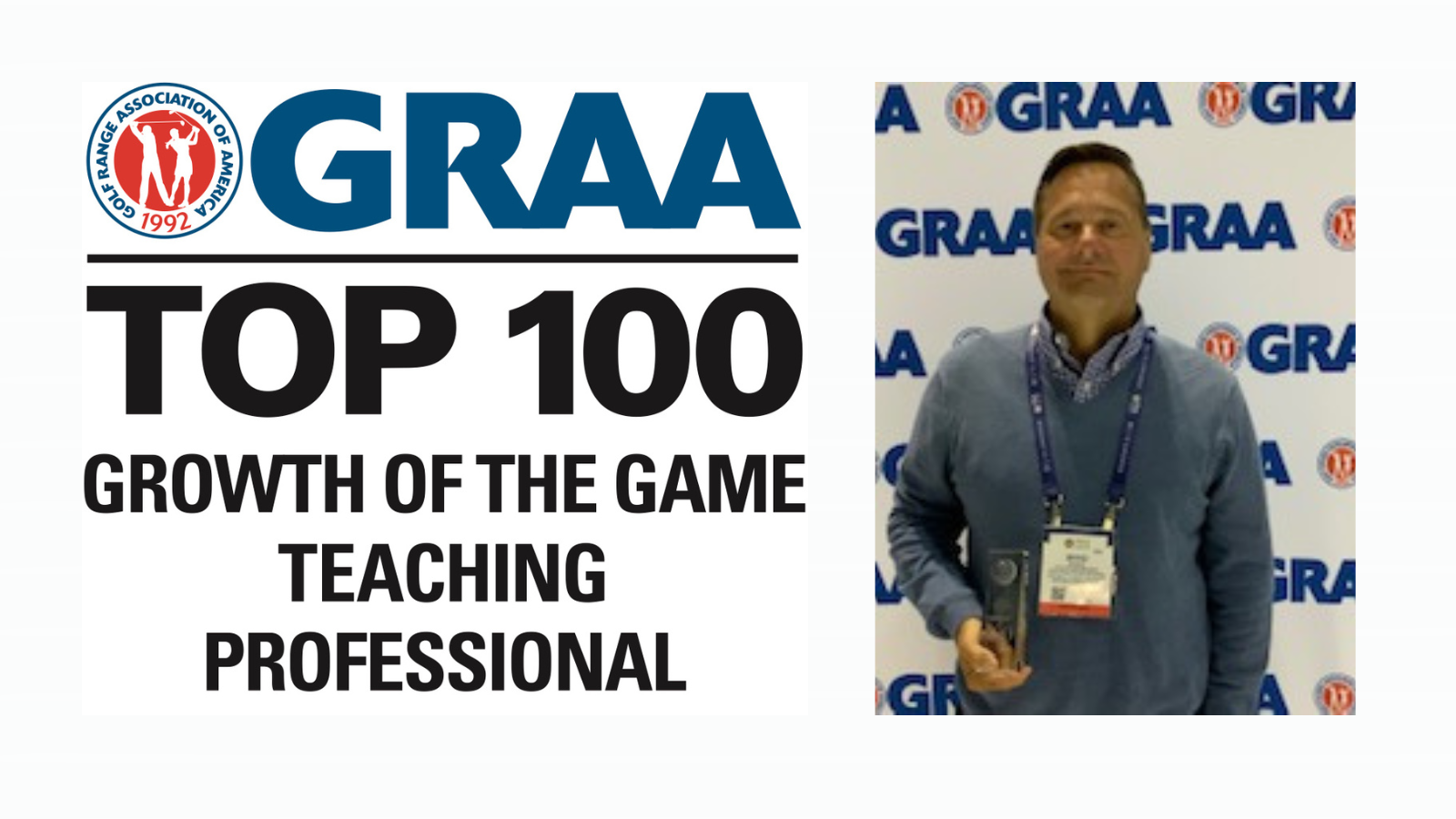 Brad Myers, PGA, has been named to the 2022 GRAA Top 100 Growing the Game Golf Instructors list in the United States. This recognition was
Read More »
Latest posts by Ball Flight Academy
(see all)