We often get asked if online golf clinics can actually help your game. In my experience, that answer is a strong… YES!
If you play any golf at all then at some point you have wanted your golf swing to be more consistent.
Am I right?
And maybe becoming more consistent has been a goal of your for years…lumped in with the millions of other things taunting you on your "someday to-do" list.
You have been to multiple golf lessons but nothing has changed. It sometimes seems like maybe you are just not destined to have a consistent golf swing.
Perhaps you have even wondered WHY you still try to play and that makes it hard go and play… let alone go and practice.
Or, if you're highly aware, perhaps you have identified the lack of action to be a murky cocktail of:- Not wanting to waste any more time or money on more lessons that have only been a frustrating to you in the past.- A lack of confidence in going to the driving range or playing with other… and attempting to still have fun.- A preoccupation with all of the "correct" positions in the golf swing, hitting perfect golf shots on the practice tee or let alone hitting perfect golf shots while on the golf course.- reading and watching everything that you can get your hands on… spending time putting in the work and just not seeing the results. 🙁
Yet despite all of this, the thought of creating a consistent golf swing has never slipped too far down the bottom of your to-do list, because deep down in your athletic heart, you KNOW that pulling off a consistent golf swing is the KEY to shooting lower scores and reaching your golfing goals.
And THAT is what The Ball Flight Academy is going to help you accomplish over this 4-week online golf clinic.
So even if you think that you're a bit behind the curve…
…that the opportunity has come and passed…
…that you produce golf swings that hit behind the golf ball – hit the toe of the club face – hit the heel of the golf club  – hit the sh___ OH WAIT! I cannot say that word as the golf gods could be listening. Haha
THERE STILL IS A WAY FOR YOU TO CREATE A CONSISTENT GOLF SWING, AND WITH THE ONLINE GOLF CLINIC YOU WILL:
Understand what arc height, face strike, and low point are and how to use them to your advantage.
Own a group of golf swing drills that will make you more consistent and functional instead of trying to create 32 positions while you try to make a golf swing.
Have the ability to have weekly live interaction with Brad Myers, PGA from The Ball Flight Academy. Brad is Certified by the PGA of America in Teaching and Coaching. Ask him ANYTHING! (Golf swing related… of course 🙂 )
Be more consistent with your golf swing and will be shooting lower scores.
YES, it is true that there are golfers that can hit the golf ball consistently. However, the truth is that if you ask them they will tell you that they do not have a consistent golf swing!
And YES, it's also true that had you jumped on the golf bandwagon sooner and spent thousands of hours tinkering around and testing you MAY have also been one of those success stories.
But here's the thing…
Contrary to what you may have heard, most people who attempt to play golf (and maybe you can relate) NEVER become consistent.
In fact, I was a professional and I was one of these golfers. As a professional, I went through a short stint of the sh____ (OOPPPSSS! About said the dirty "s" word again!)
And the funny thing is – I actually thought that I was doing everything right! I was practicing on my full swing more than ever, my understanding of what "should" happen during the golf swing had never been better and I had never been so frustrated. I was about to quit playing myself. 🙁
One tiny mistake…
But one tiny mistake on my end that nobody knew much about in those days… I was not developing skills. (Really? Am I supposed to be able to hit the ball with different parts of the club face?) I had a "pretty" swing and no matter what I shot, good or bad, someone would always ask me "Why wasn't it lower with your golf swing?"
And I know that my own failure may sound… well… uncommon and unlikely.
But… if you have ever attempted to play golf (or listened closely to the struggles of any golfer), then you will know that the horror show is not so far off from the typical player.
Here's the road that most golfers go down…
First, you find an article or video that features a "popular" tour player.
I mean it's logical… if it works for them it must work for you too! Right?
So… Off to the range you go. At first, you find the info that was being discussed is physically difficult to do. I mean that is not really hard to understand after you look at your week. Most of you have your long commute to work, sit at your desk all day and commute all the way back home. Meanwhile, the pro from the article has an entire team of fitness professionals around them.
I mean that is not really hard to understand after you look at your week. Most of you have your long commute to work, sit at your desk all day and commute all the way back home. Meanwhile, the pro from the article has an entire team of fitness professionals around them.
Never the less, you manage to hit a couple of good ones and a couple of bad ones. Long story short… no improvement made.
Time to take a real golf lesson. In fact, make it a golf lesson series.
So you drop $300 or $400 bucks on your series of golf lessons and are now confident that your problem will be solved.
Unfortunately, upon the conclusion of the series your ball is flying the same why that it was prior to the lesson series. You liked the pro and they seemed to know what they were talking about. However, the challenges were similar to the article and/or the video, they were trying to get you in positions that you were not sure that you could physically do.
Now when you get over a golf ball, you feel yourself going through mental gymnastics just to get the golf club back to the top of the swing… and forget trying to get it back to the ball.
Oh… and by the way… you are not going to start working out to make the movements any easier. Where will that time come from?
Look… I went through the very same thing in my own golf game and wondered if I would ever be able to figure it out.
I once took my game to a well-respected teacher who had won awards for teaching and here is how my golf lesson went…
While I was warming up, he was one his phone. I mean really into his phone. He did not "interview" me to find out anything about me, some of my swing thoughts were and what theories that I might be trying to implement.
He finally looked up and asked me "Are you ready to start?"
I said "Yes, I am."
He said "Okay."
He then walked behind the video camera and clicked the on button. We filmed a few of my golf swings from behind the ball or what is known as the down the target line view. We then filmed a few swings from straight on or what is also known as the caddie view.
We then went inside to his office to view the footage. He immediately brought up a split screen which had me on one side and Tiger Woods on the other. (This has been a while :)) He then started comparing what the differences between the two motions were.
Both being professionals, I was respectful and let him finish his comparison. Then, he told me what he thought I would have to do, the amount of time and money that it would take, and asked me for my thoughts.
The entire time he was talking, the only thought that I had running through my head was… I am NOT built like Tiger Woods! So, I kinda blurted it out.
Looking shocked, he agreed and took down Tiger Woods from the split screen and put up Davis Love III. Looking back at it, I guess that I should have been flattered… but… I was not.
Again, all I had going through my head was that even though, I was built closer to Davis Love III than Tiger Woods, I was nowhere near as flexible as Davis. As the pro started to compare the two swings that he saw on the computer screen, I stopped him.
I said, "I am sorry but I am NOWHERE near as flexible as Davis Love III."
He looked at me like I had four heads and the lesson was over. We never went back out to the practice tee.
We all have our horror stories about taking golf lessons. Yet… we still hang onto the idea of making consistent golf swings!
Why Pic The good news is that you are much closer to hitting consistent golf shots than you think. (Quit shaking your head… It is true!)
The challenge is that you have been focusing on the wrong things. You have been focusing on your golf swing technique and not spending any time on developing your golf skills.
AND IF YOU COULD JUST MAKE ONE SMALL CHANGE TO HOW YOU PRACTICE AND THINK ABOUT PRACTICE, EVERYTHING IN YOUR GOLF GAME WILL CHANGE.
Learn More About How To Improve Your Game...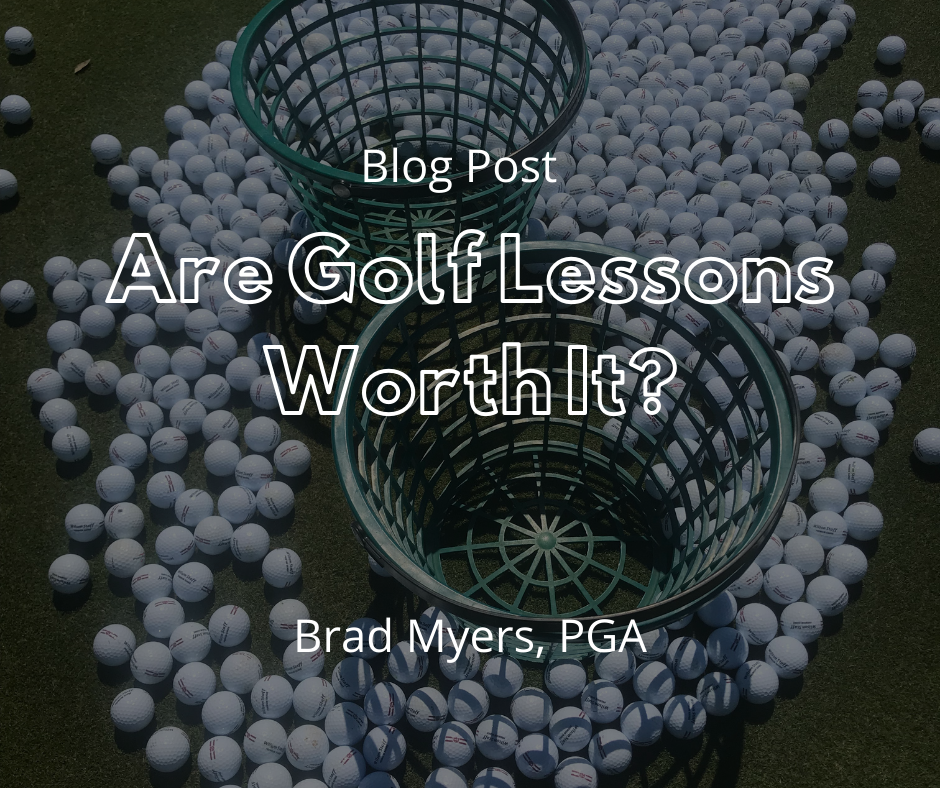 It is surprising to most people that according to the National Golf Foundation, only 17% of golfers take lessons. This may be because most golfers wonder… Are Golf Lessons Worth It? Most players don't know what to ask their instructor
Read More »
Latest posts by Ball Flight Academy
(see all)