When a golfer books a lesson, they are probably not thinking that the session will be an on course playing lesson.
The vast majority of the time, they are expecting to go to the driving range with their golf coach and stand in a station and hit ball after ball.
There is a big difference between playing golf and playing golf swing. When you are on the range, most players are playing golf swing.
What I mean by that is that they are more worried about how their swing feels and what the proper golf swing mechanics are as opposed to what the ball is doing and where it is ending up.
What is a playing lesson?
In one of these sessions, you will be accompanied by your instructor as you play holes on the golf course.
Of course, you can work on swing mechanics but most of the time the goal is to better understand strategy and/or course management that will allow you to shoot lower scores.
What Does An On Course Golf Lesson Cost?
The cost will vary throughout the country as well as the experience of the instructor. However, the average cost for a nine-hole playing lesson is $150-$200.
Before scheduling, you will want to ask if the green fees and cart fees are included within the quoted price.
What Other Golfers Are Saying…
I recently had the privilege of receiving golf instruction from Brad after years of inconsistent golf play. His ability to break down complex concepts into simple, digestible instructions is a testament to his skills as a golf instructor. Brad creates a relaxed and positive learning environment, making it easy to ask questions and seek clarification. Whether you're a beginner or an experienced golfer, Brad has the ability to identify and correct the subtle flaws in your technique, leading to improvements in your overall game. He is professional, courteous and a true asset to anyone seeking to enhance their golfing skills. Thanks to Brad, my golf game is much more enjoyable!
Kevin Tokarczyk
2023-08-01
I am a new golfer and just started playing 2 years ago with my roommates in college. Now that I have graduated, I've wanted to play the game more seriously and started taking lessons 3 months ago. I have had multiple instructors with little improvement. Brad was the first instructor that was able to break down my swing in the simplest way and gave me a better understanding of how my body is supposed to move through my swing. Brad is articulate and concise which is great for me as a beginner golfer because he is able to efficiently communicate without confusion or over-explanation. I have seen more improvement from my one session with him than I have with any other instructor. 1 week on from my lesson with him I am making much better contact with the ball and my swing is smoother and straighter. Thank you Brad, I look forward to taking another lesson from you!
Brad is one of the best golf instructors I've had. He's very patient, and worked with my swing. It was horrible in the beginning. He broke it down and explained, in small steps, how to improve it. I was never overwhelmed. He gave me drills to do, and I followed his instructions. After 8 lessons, my game has improved immensely. Brad met me at a club fitter, which was helpful. I plan to take more lessons as soon as my rotator cuff is healed! (Not from golf)
WOW, what a great training experience. Brad is patient, knowledgeable and a great instructor. He is able to feed information in small increments and it makes it so much easier to learn. I am looking forward to more lessons on the future.
Benjamin Grais
2023-06-20
I am new to the area so I was looking for a golf coach who could help me improve my game. I have played golf for 35 years but as I have aged, I needed to adjust my swing with golf lessons and expert instruction. I found Brad's website with a plethora of options including private and group lessons. In the last 3 weeks with Brad's coaching, I have enrolled in both private and group instruction with substantial Improvement. Besides being an amazing coach, Brad has exceptional interpersonal skills. He is authentic and truly wants to learn about you and your golf game. He has the latest technology and is able to explain the results which translates to a better golf game. Thank you Brad! I appreciate all of your help, patience, and guidance.
Bob Hansbrough
2023-05-31
I started taking lessons in July 2022 and my goal was to regain my swing that I had lost due to lack of play for 10 years. I was shooting 100-105. My goal was to regain my tempo and break 90 by 1/1/23. That goal was shattered in just 90 days. I'm now scoring in the mid 80's consistently and I've shot 79 once. Brad has been there every step of the way. He breaks the swing down in bite size pieces. I improve after each lesson and he's there for his students daily. He even helped me get fit with a custom driver just a few weeks ago at Club Champion. He's the real deal if you want to improve your game. Thanks Brad
Brad is a great Golf Instructor. He is good at asking questions to help you learn rather than just giving you the answer right away. Helped me fix my swing and find consistency. Responds to texts when I have questions during practice to keep me moving in the right direction. Highly recommend.
After so much frustration hacking away at balls on the range – it was a relief to finally have fun. I improved more in my one hour with Brad than I have in the past two months getting back into the game. His style is personable and relaxed, and he is a very effective communicator explaining concepts and correct feels. I finally feel confident standing over a golf ball again, and look forward to my next lesson with Brad. Roll Tide!
Really personable, easy to get a long with, and great applicable knowledge. I was a little anxious because I have a non traditional swing, but I was at ease with Brad immediately. He didn't try and change my swing, rather he showed me where I could improve using my normal swing. I highly recommend Brad to anyone looking to improve their game.
Brad is an extremely knowledgeable and patient instructor. He explains things in an easy to follow manner. I highly recommend.
Who Should Take A Playing Lesson?
Common thought is that a golf playing lessons are only for "better players." This is simply not true.
Since you can work on all aspects of the game, these sessions can benefit all levels of players.
Trying to Break 100
In talking about strategy, maybe the player that is trying to break 100 learns that they can shoot a lower score by keeping the driver in the bag and use a different club off of the tee.
Trying to Break 90
As players are getting better, they may have a single shot that is giving them a problem when on the golf course.
For example, the player might be struggling with hitting a shot from deep rough. This could be from the fairway or close to the green. This is difficult to create while on a practice tee.
Trying To Break 80
A player trying to break 80 has some golf skills. With their coach, they can talk about which shot they should try to produce depending on where the hole location is located.
Opposed to popular belief, aiming directly at the flag is not always the best strategy for you to shoot your lowest scores.
Golf On Course Playing Lessons Near Me?
If you are looking to find a golf coach to give you an on-course playing lesson, an easy way to find one is to simply use your favorite browser such as Google, Bing, Yahoo, etc.
This should give you multiple options at various pricing.
Conclusion
If you are having difficulty with taking your good golf swing from the practice tee to the course, booking a golf lesson literally on the course can help you bridge the gap.
No matter your skill level, hiring a golf coach to watch you on the golf course can be an eye opening experience as you can be swinging differently on the course as opposed to the practice tee.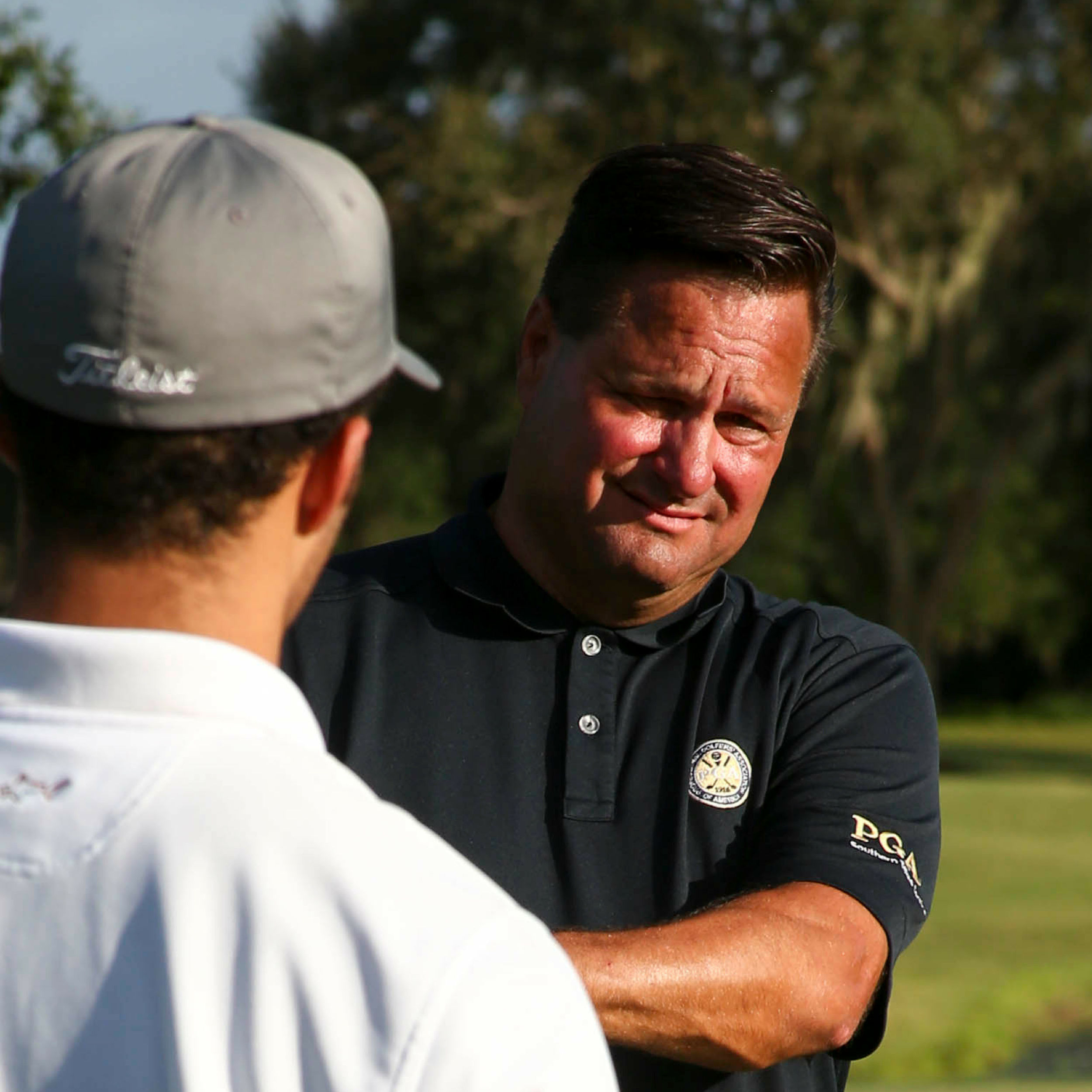 Wanting To Improve Your Golf Game?
Take a golf lesson from Brad in Sarasota, Florida
Not in Sarasota?
Let's improve your game online…
Read Below To Shoot Lower Scores...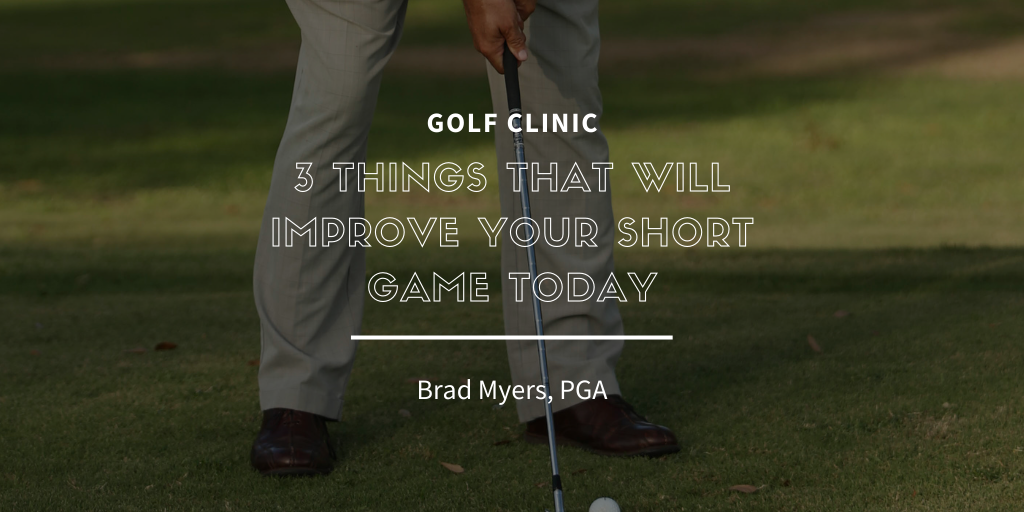 What if… You knew just 3 things that will improve your short game today? Would it lower your scores?  Would it make the game more fun? Make the decision to stop struggling with how to pitch a golf ball or
Read More »
Latest posts by Ball Flight Academy
(see all)