As our world becomes more and more mobile, learning how to play the game through online golf coaching is not such a far-fetched idea.
Many players are already taking advantages of coaching from the internet.
Does coaching from an instructor over the internet even work?
Since the idea is relatively new… many players ask me "Can you even learn anything from an golf coach on the internet?"
My experience is "Yes" you can play better and shoot lower scores with access to this.
I have been a part of a players success stories that have improved their games via the internet. Not only were we not in the same city, state or country… we had never even met before.
How does coaching from the internet work?
Well… To be honest… access to an online swing lesson can take many forms.
Let's talk about some of the popular ways to take them from a coach.
It's time is here… Online Golf Coaching over social media
Let's face it… if you have ever been on social media… You have seen this.
This type of coaching happens on all of the popular platforms like Facebook, Twitter, Instagram, Tic Toc, etc. as access is almost too easy. 
Someone will post a swing video, videos or even a single picture of a swing and want the opinions of others. Unfortunately, not all of the responders are a qualified coach that answer but… they do anyway.
There has never been a better time to use the phrase "Buyer Beware." I was brought up with the thought of you get what you pay for and it rings true time and time again.
Spend some time following some of the teaching professionals and researching what they believe and teach before you just go implementing a new swing tip into your game.
Another thing to keep an eye on is the comments on social media.
I am not saying all of these "commenters" that you see in these social media platforms are bad or do not know what they are talking about as I have tried to help before.
What I am trying to say is be careful because not all are a coach and unless you know the person commenting, take the info with a grain of salt.
Swing Analysis Videos
This format is what most players think of when they hear the term personalized online lessons.
This is where you take a film of your swing and send it in via email for a diagnosis to an instructor.
This process can take from 24-72 hours to receive feedback and can cost whatever you want it to cost.
One of the main challenges with this process is getting the proper camera angle for the virtual coach. Believe it or not, different instructors like the camera in different places.
Make sure to check their website on what they prefer before taping and sending your film. It will help the internet instructor make a better assessment and give you a better experience with better results.
Clinics On The Internet
The Ball Flight Academy holds what we call internet golf clinics to better your game.
We typically do these online lessons through a private Facebook group.
This allows us to use Facebook Live to give a presentation on a certain topic. In addition, we monitor any comments and respond accordingly.
What do I need to use coaching on the internet?
If you are reading this, then you more than likely have all that you need to take internet lessons. It really just depends on the experience that you want to have. If you are just going to troll social media, then the device that you are reading this article on is fine.
If you are looking to have an online swing analysis done by an internet coach then you will need some sort of camera. Most players have a camera on their smartphone that is more than adequate to produce a clear video.
If you are in an online clinic, you will not need any more equipment than what is discussed above. Some players attend on their smartphone while others use laptops and Tablets or IPads.
How do you find the best coach for you?
The best part about social media is that you can gain access to many coaches fairly easy. No matter which social media platform you hang out on you can follow a group of instructors offering coaching online that can make you better.
Through what they post or share you will get an idea of how they go about teaching. Feel free to reach out to them on the platform and ask questions to see how they communicate and if they clear up your confusion.
In my humble opinion, there is not one teacher or coach for all golfers. With that being said, you know what you want to work on and go seek out the conversations on the social media platform that you like.
The other point I would like to make about online lessons is that just because most of this is done over social networks that should not keep you from picking up the phone and asking a few questions before you decide to work with someone online.
Questions to ask a prospective professional coaches for online lessons would not vary too much from what you ask if you were going to take instruction in person. Questions that you may want to ask include but are not limited to include…
1How many online lessons do you give to golfers in a week/month?
2How long have you been teaching overall and how long online?
3Can you give me your philosophy of how golfers should swing a club?
4How would you like for me to position the cameras?
5How much time does it take to for the evaluation to happen?
6If I have questions after the evaluation… What is the process and is there a cost to that?
Why use an online swing coach?
Now you know that virtual golf swing coaching can and does work, you know how it works through various platforms, you know what you need to take advantage of online training as well as you know how to find the best  instructor for you.
You should use virtual coaches because doing it will…
Allow you access to not only more but some of the best golf instructors in the world.
Not everyone lives in a metropolitan city and has access to quality coaching… but… they do have access to get online.
By connecting via a device that is in your hand most of the time anyway, this allows players to take lessons from a coach anywhere in the world.
This can be a big time convenience for you.
Even if you do live close to a good coach, trying to fit into each other's schedules can sometimes be quite the trick.
If you are filming a swing, you can do that on your own time and then send the videos off for review to your favorite coaches.
Depending on where your golf coach or professional is, they may even return the golf coaching videos to you while you sleep!
A golf instructor from an online clinic will typically leave videos for you to review at your leisure, which could be in the middle of the night.
Save you some money. Depending on how many people will be involved, many instructors discount the pricing of things that they do online as it does not take as much of their time if it is done in an online group golf class.
Now if the coaching is just you and a professional instructor, it still may not be "cheap" as you are asking them to spend one-on-one time with you.
With everyone looking to save time being as busy as our current world forces us to be, finding the best coach to help you better your game is not only easy but can be a cost effective way to improve your swing, shoot lower scores and have more fun!
Hit Solid Golf Shots By Reading Our Other Articles…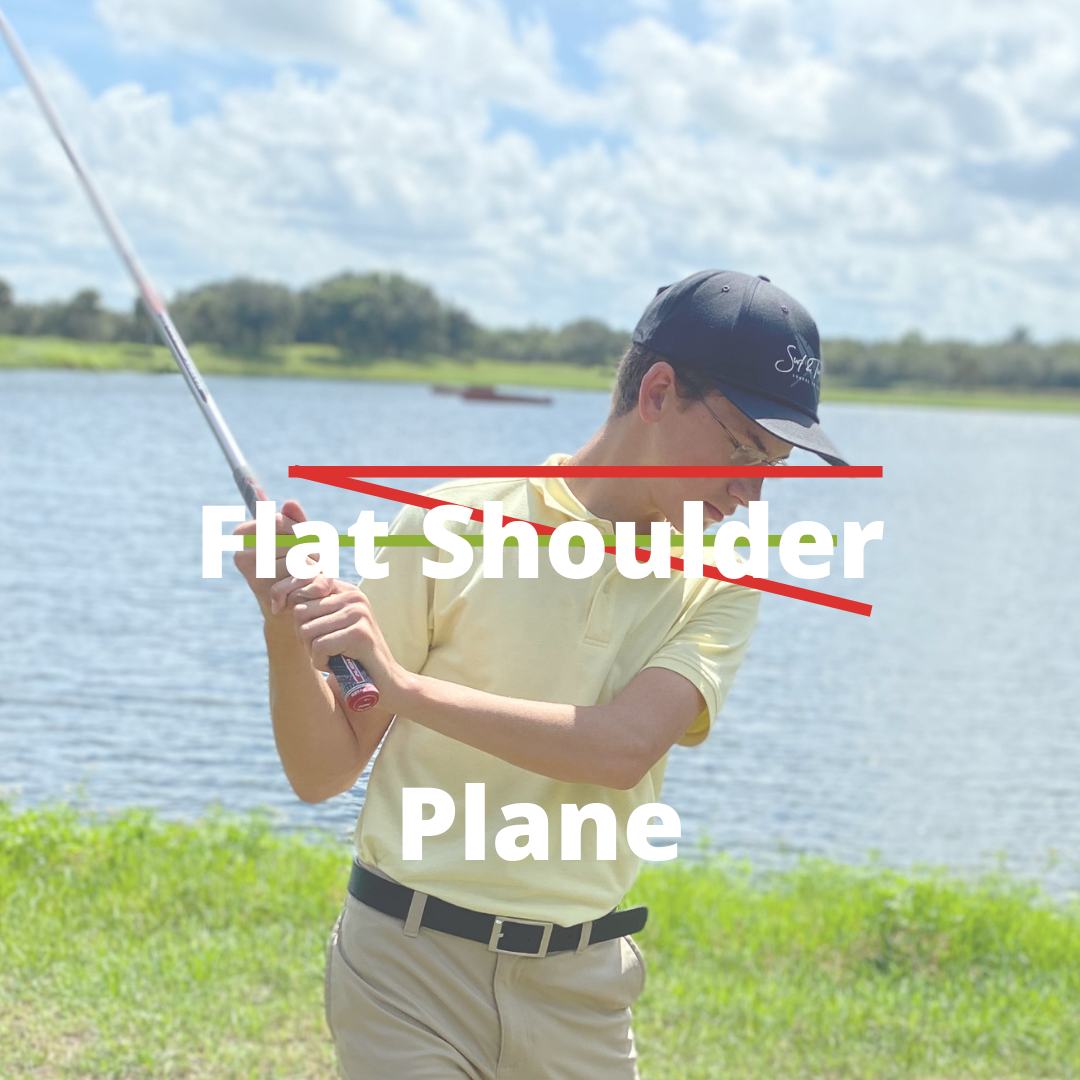 Maybe… After your last round you were a little frustrated and went trolling online to find out what having a flat shoulder plane means. You could be looking at various videos and articles about shoulder tilt in the golf swing
Read More »
Latest posts by Ball Flight Academy
(see all)